Video Links
Want to see our catfish rods in action? Check out 'Steve Douglas - The Catfish Dude' YouTube channel below. You'll see experienced anglers using our TWC rods out on the water and reeling in monster channel cats, trophy blues and giant flatheads.
Go on and Feel The Fight!
The Catfish Dude
Steve Douglas
Big Fish, Live Action, Tips, Tactics and Hotspots. Showcasing real catfishing techniques in our nation's Wild Rivers, lakes and streams.
Visit YouTube Channel
Photo gallery
See what kinds of monster catfish our friends and fellow anglers have caught with TWC rods when you browse our gallery below!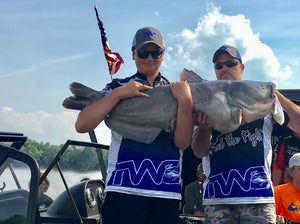 Our trophy catfish rods are time tested with proven performance. Don't just take our word for it.